I do not own a little black dress. You know, that classic black dress that you can doll up with pearls or accessories to make it work for any formal occasion or party. That dress that should be a staple in every woman's closet but is absent in mine. Perhaps I will own one someday, but for the time being I have found another kind of "little black dress" that I can dress up or down and it matches with anything I wear.
It has nice curves, support and accommodates for weight loss or weight gain. I can show off my chest or backside and I can wear it everyday without being judged on my laundry habits or personal hygiene. This "little black dress" has a nice spot to secure my purse strap and a place to tuck away my lipstick or keys. And probably best of all, it comes with a little gentleman who is always thrilled to be my date and loves me no matter what. Can your little black dress offer all of that?
So now that you have met my new wardrobe staple, let's explore it a little further. After all, a good structured carrier is an investment, so you want to make sure it meets your needs and preferences. I had the chance to try this on at the ABC Expo earlier this fall and knew I would like it, but you can never get the real picture until you are using it at home on a regular basis. I was thrilled to be able to review one this past month and I cannot be happier with my color choice. This new Montenegro color, although not as fun as their adorable prints, offers so much versatility for your wardrobe and is gender neutral.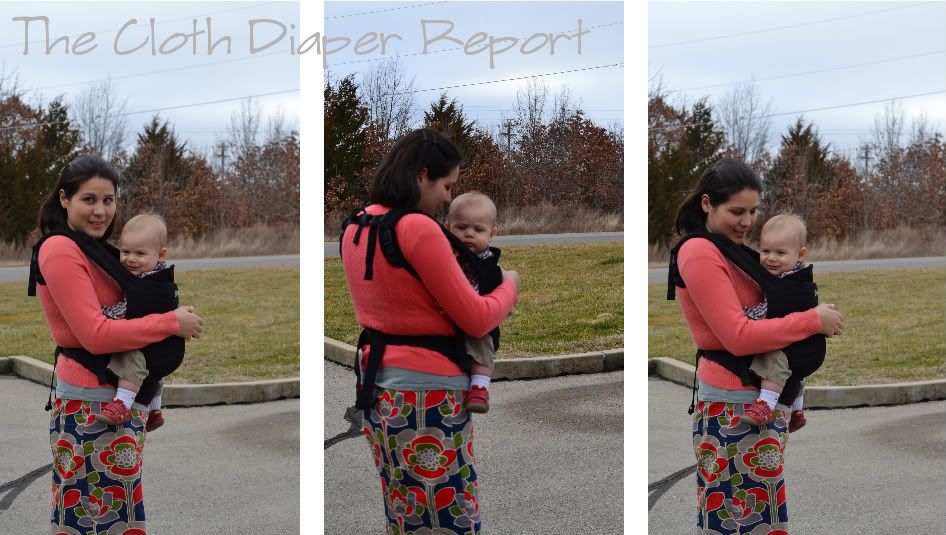 Although I never had the opportunity to try on or review their previous model, I know that one of the limitations was that it was specifically designed for toddlers. This meant that you would need a separate wrap or carrier for the newborn and infant stages, and that you may not get as much use out of your purchase depending on the personality (and size) of your toddler. This still did not put a damper on my desire to want to try their product, but the updates in the new 3G design has made this structured carrier one of my favorites in my collection.
The first thing I noticed when I tried this on again was its trimness compared to my usual go-to structured carrier even though the straps seemed as thick and supportive at a glance. The body of the carrier and the straps both have contour, which seems to hug my shoulders, body and my baby better and perhaps it is this fit that adds to the trimmer feel of the carrier. I love that the head rest can be tucked away out of sight in the top pocket or removed completely. The bottom pocket offers a place where you can tuck away the toddler leg rests or a place to put keys or other personal belongings, either during the infant months when you don't need the stirrups or during the toddler years when they are in use.
Both straps have a lovely purse snap that helps keep your purse strap from falling down, which is brilliant, especially if you use the carrier while running errands or on public transit for you city dwelling mamas. I liked how the waist snap is very secure and that it adjusts in the middle of my waist with two straps, so I can grab a strap with each hand and yank it tight to keep things evenly distributed. It's harder for me to unbuckle with one hand, but the military grade buckles mean more durability and security, which make this "inconvenience" irrelevant in my mind. The chest strap seems to slide up and down smoothly for when I need to adjust it and seems easier to buckle behind my neck when I don't have extra hands to help.
Now the most exciting of the dozen or so updates and new features of the Boba 3G carrier is the infant carrier conversion. There is no longer a need for a separate newborn carrier or an additional infant insert or attachment and I am excited to give it a try when we add another bambino to our family (or if I have the chance to watch or cuddle one my my friend's little ones). This feature is something to keep in mind when considering the purchase, since this could save you $20-40 compared to some other structured carriers on the market that require additional accessories for the newborn years. It's also nice not to have to worry about losing or misplacing an accessory, particularly when you tuck things away for a future child.
Lastly, the back of the carrier is a little higher than others I own, which offers more head support for infants and I feel like my son is a lot more comfortable in both a front and back carry as he enters toddlerhood.  This carrier has really hit most of my wants and needs on the nail, and I am still trying to find any constructive criticism. The only one I really have after my first few weeks of use is that the shoulder strap adjustment had a little bit of a learning curve for me, but that was more because I was accustomed to another carrier so it wouldn't be fair to call this a shortcoming since it is all relative to my prior experiences.
I would love to see them come out with an organic version and perhaps a solid brown and green version as an homage to their previous pine green print. Other than that I am looking forward to the release of their sucking pads sometime this year as I have been using a set from a different carrier to keep it looking sleek and clean (I removed them for the photos above). Be sure to check out their entire line of prints and colors as well as their coordinating bags and accessories.
Buy it!
The Boba 3G carrier is available at Boba online and at other local and online retailers.

A carrier was provided by Boba to facilitate this review. No monetary compensation was received and the experiences and opinions are my own. 
{If you enjoyed reading
My "Little Black Dress" is the Boba 3G ~Plus~ Boba #Giveaway Widget
I would be tickled pink if you left a comment. To read more about my green(er) parenting aspirations, advice and adventures be sure to subscribe to my
RSS feed
or get updates via
email
.}