When I left home over ten years ago my father sent me off with six photo albums for me to keep and add to on my own. He is such a good example of being a family historian and made an album for each of us kids as we grew up to document our childhood so we could remember and share them with our families down the road. He would get double prints of all his 35mm film rolls at the photo store and save one set for the master family album and divvy up the rest of the photos between the kids' albums depending on who was in the photos.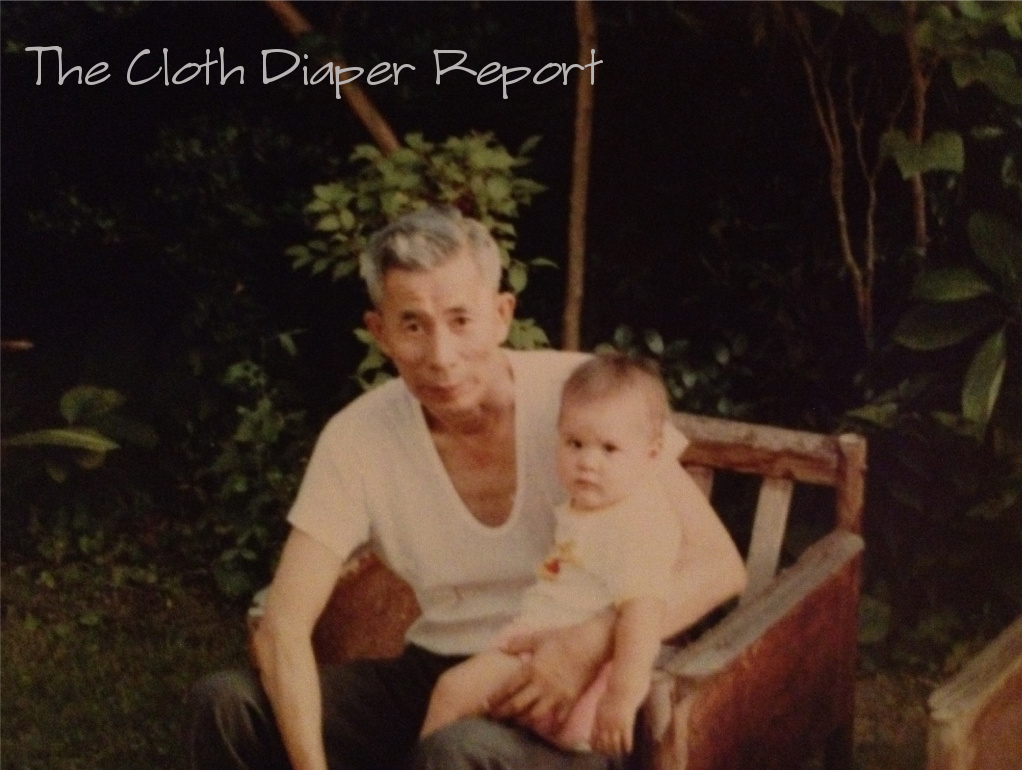 I remember one year growing up we even made a big project out of transferring all of our photos from the old "sticky" paged albums to new ones once they discovered they would deteriorate photos faster, because our photos were a very important keepsake for my father. I still have those albums on my bookshelf today and although I have always been thankful for them, I feel especially fortunate now that I am taking the time to sit and ponder on what an awesome gift he provided. I flipped though some pages from the albums this week and wanted to find a picture of me when I was right around my son's age. I found a very special picture the week of my first birthday with my Japanese grandfather– perhaps one of the only photographs I have of him holding me as this was the first time he saw me and he passed away about a year later.
If anything were to ever happen to these albums, or many of the photos I have kept over the past decade on my own, I would be devastated. There are no digital copies of my childhood photos and even my digital copies of photos over the past five or six years don't have a unified back-up location that would be easy to retrieve. I have tried uploading a good number of photos online, but this takes a bit of time and I have only put up a fraction of the digital photos I own. I have numerous CD-ROMs, but these scratch easily and I am not sure about how long they preserve data. I definitely have a lot of work to do in backing up all of my digital photos and starting to make digital copies of my non-digital photos and memories.
One of my big projects when my husband is home this Christmas break is to make digital copies off all of my childhood photos as well as letters and keepsakes I have kept over the years. I will keep the photos and select memories, but this will allow me to part with some items for which a digital copy is sufficient and with the SanDisk Memory Vault I will have a vaulted memory of the item if anything were to ever happen to them in a natural disaster or during one of our many military moves we have ahead of us. In addition, our photo organization is a little disjointed since we were a multi-computer household for a couple of years and continue to use multiple devices, so we will need to work on the organization as well as make a habit of periodically archiving both of our photos on the the Memory Vault.
The SanDisk Memory Vault serves as a solution for archiving some of our most valuable treasures: our photographs. The Memory Vault is smaller than the size of my palm and is different from a hard drive or CD-Rom which both have vulnerabilities over time. The SanDisk Memory Vault is available in an 8GB and 16GB version and can preserve photos up to 1oo years! So as long as one of your descendants keeps up on their preservation, these memories could be passed down for generations to come. This is particularly exciting for those of us who have had the importance of pictures instilled in them from when they were young or genealogists who try and preserve old family photos like my mother.
The device was unbelievably easy to use and all I really needed to do was drag and drop the photos I wanted to preserve on the the SanDisk drive on the computer. It was just like dragging files into a thumb drive and it is something even my parents could easily use. The size is easy to store or even toss into a safe or fire-safe box. I think this is an exciting product that offers priceless protection and peace of mind to some of the more priceless family possession that insurance policies or money cannot replace.
For additional information about this and other SanDisk products, visit SanDisk online.
Win it!


a Rafflecopter giveaway
I wrote this review while participating in a campaign by Mom Central Consulting on behalf of SanDisk and received a product sample to facilitate my review, and coupons to giveaway.
{If you enjoyed reading
SanDisk Memory Vault ~Plus Four 20% Off Coupon Code #Giveaway (12/17)
I would be tickled pink if you left a comment. To read more about my green(er) parenting aspirations, advice and adventures be sure to subscribe to my
RSS feed
or get updates via
email
.}