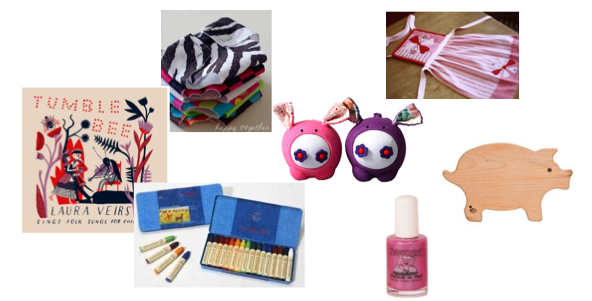 Alright, so this is part two of my stocking stuffer articles as I continue my frantic search for stocking stuffers for my kids (thank goodness for Amazon Mom/Prime and free upgraded shipping at other online retailers)!
Create! There is nothing like homemade, whether it's sewn, glued, repurposed or home-baked. Whip up a simple apron, craft some pillows from old T-shirts or make a special ornament for each of your little ones. Heck, make a tradition of letting your kids choose and wrap up a forgotten toy to re-gift to a sibling, friend or someone else in need to really get into the spirit of giving rather than getting. You don't have to spend a fortune or Christmas or stocking stuffers, but if you need a little inspiration there are some ideas below I am doing this year, have done in the past or think would be really great ideas if money (and spoiling) was not an issue for me to do more!
Piggy Wiggies/Howlie Owlies. I almost passed these cuddly cuties by at the Expo on my way to the mother's lounge to nurse my son. They are made from socks and come in a variety of sizes and colors. They each have a name and story behind them and be sure to check out their seasonal santa piggy as well as their upcoming Howly Owlies. Sold online and at toy stores such as FAO Schwartz, these award-winning piggies did not make it until Christmas morning at our house! I set these aside in a box at my desk and my daughter discovered them and keeps sneaking them out into her room. It's obvious Santa is not putting them in her stocking anymore, but what is most important is that they will be loved.
CDs and DVDs. My daughter has been obsessed with Lion King, classics and other releases this fall including Winnie the Pooh, Nickelodeon Favorites: Merry Christmas
, The Grinch, Charlie Brown Christmas (which she just calls Snoopy), Olivia and other "friends". She is definitely getting one DVD, although my husband went and bought a couple presents for the kids that will be a surprise for me as well and one looks suspiciously like a DVD. I am curious to see what it will be.
Putumayo recently released a new Children's CD Acoustic Dreamland that we love. They are quiet wind-down songs that don't scream lullaby and they don't start to drive me a little mad like some children's CDs after the hundredth time on repeat. Kids World Party is another recent release that has a nice compilation of songs from around the world and it is currently one of our car ride jams and they have also come out with re-usable sticker and coloring books to introduce kids to different cultures and traditions. These activities were a big hit for my daughter and also give you another means to talk about the music with your child and bring life to the cultures and languages of the various songs.
Another recent favorite of mine is a CD called Tumble Bee that I was able to preview and they are folk songs for children that have that indie folk feeling to them that make me forget I'm listening to a children's CD! It has been refreshing to start discovering some "out of the box" children's CD picks lately that reminds me kids music can be musical, multi-dimensional, entertaining and pleasing for listeners of all ages. Check out some song samples on Amazon for any of the CDs I mentioned above and I think you may even want to add some of them on your own iTunes!
Art Supplies. My daughter will draw and paint for good chunks of the day and I love to encourage her creativity. I have never used beeswax crayons that I know of, but I saw these online at NOVA Natural Toys and am fascinated. I am ready to throw my crayons out and replace them with these, but if nothing else for the time being just downsize our crayon collection. Art supplies in general are an affordable stocking stuffer, so whether it's their first set of watercolors or a new paint brush these are fun and functional gifts.
Doll Diapers. Reusable and cloth as they should be, these are a favorite accessory for my daughter's dolls. You can purchase these at your favorite cloth diaper retailer from brands like Rumparooz, or whip up your own with some felt and velcro (check out this simple doll diaper tutorial I found on Pinterest here). If you buy fabric glue you can even avoid the sewing machine all together since it is machine washable, or if you are crafty try a more detailed pattern and different fabrics.
Piggy Paint. The only nail polish my daughter has ever known, we love the non-toxic formula, vibrant colors and the adorable little pig logo.
Get creative with your stocking stuffers or hop on over to my craft and gift idea pin boards over on Pinterest. I add new things throughout the week and sometimes even take a stab at a project when I can steal a few minutes to myself!
Win it!


a Rafflecopter giveaway
Affiliate links may be used where applicable. Samples of select products were provided by the companies.
{If you enjoyed reading
Last Minute Stocking Stuffer Ideas for Girls ~Plus~ 24-hour DVD #Giveaway
I would be tickled pink if you left a comment. To read more about my green(er) parenting aspirations, advice and adventures be sure to subscribe to my
RSS feed
or get updates via
email
.}