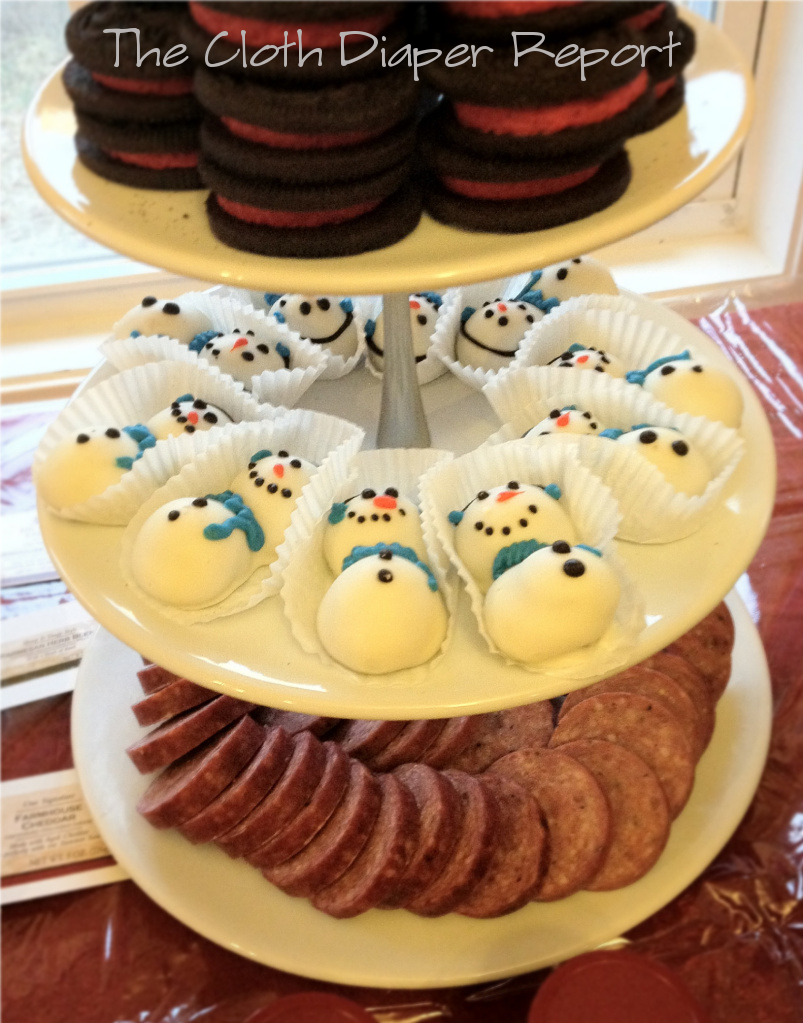 We got our first dusting of snow this week and even though it was very little, it has finally started to feel like December! With just over two weeks until Christmas and most of my holiday shopping complete I am doing pretty well. I had the privilege to sample one of The Swiss Colony's new holiday releases and I won't lie, I wish I didn't set them out at my holiday party to share! I received the new Snowman Truffles and they taste even better than they are cute. And they are pretty darn cute!
As my guest were leaving I spied two left and was so excited that I would be able to gobble up another one of these scrumptious little guys, but a few minutes later I turned around and someone had the same idea because they were gone! Needless to say, these are decadent, delicious and very satisfying. They will leave you wanting more, yet have enough chocolatey depth to their flavor that you probably won't find yourself eating the whole box in one sitting. Perhaps by the end of the day, though.
These would be a great gift to take to a holiday gathering and is a smart gift choice for someone who is hard to shop for, already has everything they want or who you want to make feel extra special with a delectable treat. With dozens of sweet and savory gifts to choose from, in a wide range of prices, The Swiss Colony offers many gift ideas this holiday season.
In addition to the Snowman Truffles The Swiss Colony has also released their Breakfast Petits Fours and Holiday Mini Red Velvet Cupcakes to add to their wide selection of products. I love the Holiday Morning Breakfast gift basket and their Sugar Free selection is perfect for loved ones with special dietary needs. To learn more about these and their full line of products visit The Swiss Colony online.
This is also a special year for the Swiss Colony – it's their 85th year in business! And, it's the 20th anniversary of their Gingerbread House donation program. By the end of 2011, more than 200,000 houses will have been donated to kids staying the holidays in children's hospitals nationwide.
Win it!



I received this item free of charge from The Swiss Colony. No monetary compensation was received or offered, nor was I under any obligation to write about this product. All opinions expressed are my honest thoughts. I am not offering any sales or taking orders for this item. I will not receive any compensation in connection with any sales of this item.
{If you enjoyed reading
It's Beginning to Taste a Lot Like Christmas with The Swiss Colony Snowman Truffles ~Plus~ #Giveaway (12/16)
I would be tickled pink if you left a comment. To read more about my green(er) parenting aspirations, advice and adventures be sure to subscribe to my
RSS feed
or get updates via
email
.}