What can I say, I am feeling really on top of Christmas this holiday season. I have finished pretty much all of my holiday shopping, our tree and decorations have been up since Black Friday and I already had my holiday get-together for the season. I chose to do a holiday ornament exchange early to grab everyone before they had a dozen different holiday events to attend or headed out of town. I also selfishly chose to do the ornament exchange because our tree was needing a little sprucing up and I thought it would be a fun way to add additional ornaments while creating a fond memory of a friend.
I lucked out and one of my friends got her creativity on and made the most darling scrabble ornaments! We all drew numbers like in a white elephant exchange and at #7 (out of 10) I was pretty confident I would be able to snag one of these cute treasures. Score! I think everyone was being too polite to snag my ornament after I made my selection, since I chose the "peace" scrabble ornament specifically because my son's Japanese middle name refers to peace. I mean who could steal my ornament after I shared a story like that? Needless to say everyone did a little ornament snagging, had a lot of laughs and stuffed ourselves with delicious food.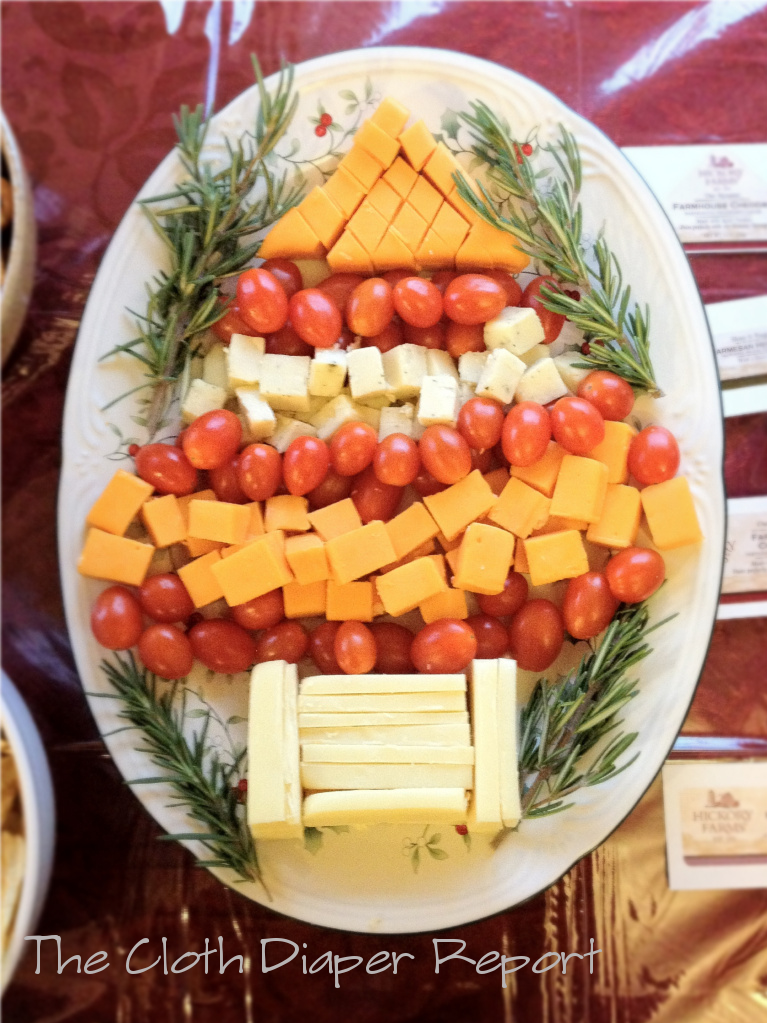 I served an assortment of adult and kid-friendly foods including an assortment of Hickory Farms summer sausage, fruit and cheeses. I saw the cutest pin on Pinterest for a display idea for my Hickory Farms cheeses, although I used rosemary for my green element and my tree trunk got a little thick since I used cheese, but it was still a fun display. I placed little labels next to each row of cheeses in the tree display so my guests could see what cheese they were eating and the smell of rosemary just added to the festive feeling of the evening.
The summer sausage, crackers, veggies and other treats were munched on throughout the evening and the fireplace DVD and holiday music made the room seem toastier. At one point during the party everyone started sharing stories of their past experiences and memories of Hickory Farms and although this was an unplanned course of conversation, it is clear that Hickory Farms has a place in many American's memories especially during the holiday season.
All of my guests were friends in the military and the holidays are a bittersweet time where we cherish when we are Home for the Holidays together, remember the Christmases when we were apart or anticipate the reunion with our loved ones if they are currently deployed. We have all been separated from our loved ones at some point (some of my friends even multiple times) and it is always strengthening to be together with people that understand, particularly for those friends who are currently separated from their spouses. My one friend who came with her 18-month-old son is anxiously waiting for her husband to return after a year in Afghanistan and we pray that they are not delayed as they are expected home a couple of days before Christmas!
My favorite assortment I served that evening was the Orchard's Bounty gift basket. I served the fruit in a fruit and whipped topping salad, sausage and cheeses in my other food displays and I am in love with the Peterboro basket. I am currently using it on my kitchen counter because it is shallow enough that I still have lots of counter room, but I can place bananas, snacks and other odds and ends away in a neat and tidy manner. They have a wide range of price ranges, but if you're looking to give a family or larger gift I recommend the gift baskets, as they will have a souvenir to use and remember you by throughout the year.
I wrote this review while participating in a campaign by Mom Central Consulting on behalf of Hickory Farms and received product samples to facilitate my review and a promotional item to thank me for taking the time to participate.
{If you enjoyed reading
Hickory Farms & My Holiday Ornament Exchange
I would be tickled pink if you left a comment. To read more about my green(er) parenting aspirations, advice and adventures be sure to subscribe to my
RSS feed
or get updates via
email
.}