I reorganized the master closet this week which, of course, snowballed into a dozen other sorting and reorganizing projects. I have boxes of donations to make this weekend, a tidy closet, a couple projects still pending and my winter sweaters have come out of hibernation. And I got thinking, what is it about wool in particular that is forgotten about a good eight months out of the year, when it is so much more versatile? Wool soakers and longies are perfect all year round because they regulate temperature, and wool dryer balls can be used 365 days a year.
If you are newer to cloth diapers or green living in general wool dryer balls may still be a new concept to you, but you may be considering it because you need something to help reduce drying time in the dryer and that is a safer alternative dryer sheets to minimize static. I finally switched to wool dryer balls about 6 months after I started to cloth diaper and I haven't gone back since. I purchased my first set which is still in use, but the dyes are long faded (they were hand dyed and seemed to fade pretty quickly) and I have even taken a stab at making my own.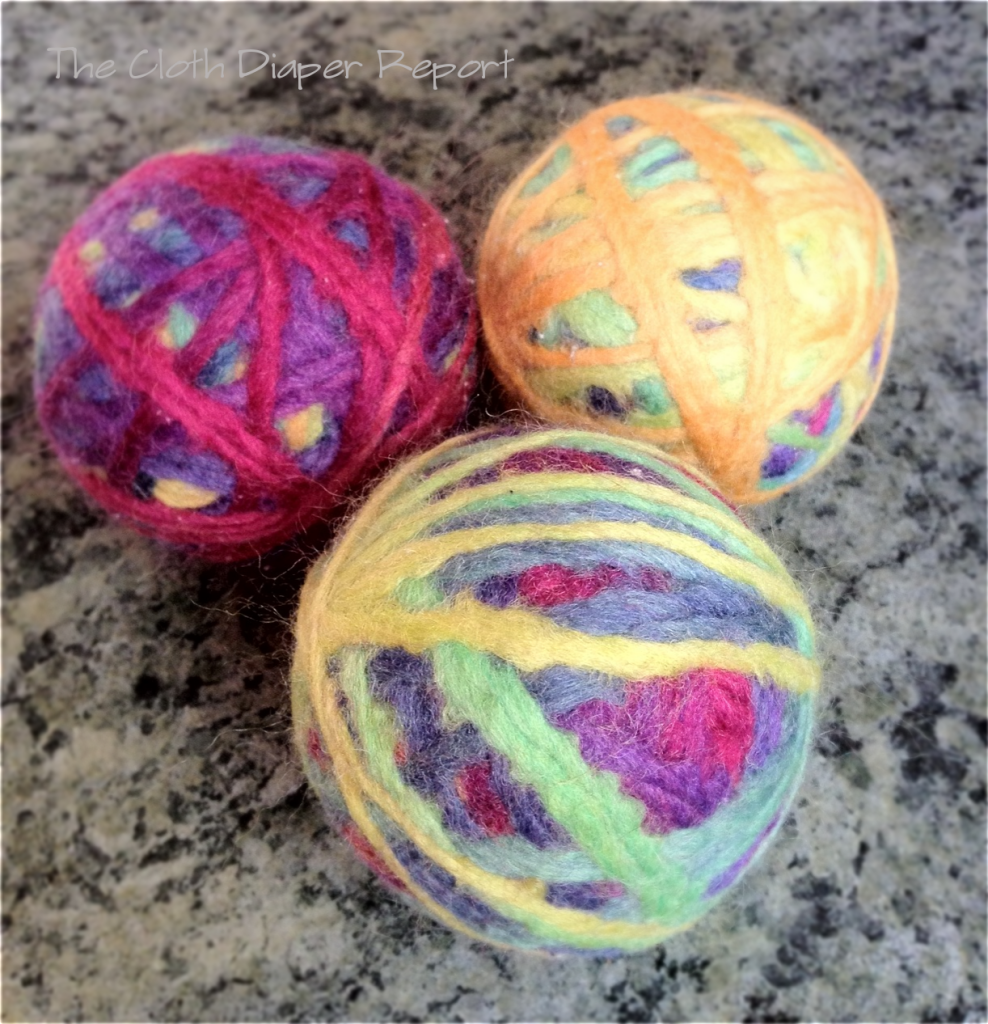 Although wool dryer balls last a long time I have lost a couple to our dogs or during my dryer ball making experimentation (felting can be a very finicky process). Needless to say it was nice to have a fresh, brightly colored set to review from Wooly Snowballz and the yarn used was pre-dyed so I imagine the color will stay vibrant for years to come. I used the multi-colored dryer balls (pictured, left) and I love the bright cheerful colors. I was surprised that only three balls seemed to do as well as the four or five I typically use, although I have been trying really hard lately to be better about washing smaller load sizes.
Wooly Snowballz also has greys, browns, creams and a rainbow of other colors to choose from and I loved how she even makes some mini balls  for little ones to play with…because they are sure to run off with them (yet another reason to have more than one set of dryer balls!). So even though you should think wool even in the warmer months, the cool weather definitely calls for it so I'd encourage you to make the switch or jazz things up with a fresh set this winter.
For additional products, colors and information visit the Wooly Snowballz Etsy store online.
Save!
Use the code "CDReport" to save 10% off your order.
Win it!



Samples were provided to facilitate this review. No monetary compensation was received and the views and opinions are my own.
{If you enjoyed reading
Wooly Snowballz Wool Dryer Balls ~Plus~ Coupon & #Giveaway (11/28)
I would be tickled pink if you left a comment. To read more about my green(er) parenting aspirations, advice and adventures be sure to subscribe to my
RSS feed
or get updates via
email
.}