It has been over seven years since I set foot in Italy, but the tastes, sights and sounds are still vivid in my mind. The back to back sightseeing tours and museums were exhausting, but the fresh gelato on the streets cooled the hot sun and a warm meal of pasta at the end of the day was calming and comforting. One thing that surprised me during our week long trip, however, was that the pasta didn't surprise me. I think I expected it to have such a superior taste and texture that I would never be able to go back to my "regular old" pasta in the U.S., but it was hard to tell any difference! So this is good news, because I can get authentic tasting pasta at any grocery store in the U.S. and attempt to recreate some of my favorite Italian dishes.
Pasta is a "go-to" meal for my family and we usually eat it on Sundays for what I call "Spaghetti Sunday" where my husband often helps with the cooking. Spaghetti and long noodles are my kids' favorite, but we make all different shapes of pasta to keep things interesting. One thing I like to go when we are at the grocery store is let my daughter pick any box of pasta she wants so she can get involved and then she is more likely to eat what is served at dinner. Although we deviate from the whole grain varieties from time to time when we are in the mood for a fun shape like cellentani, I make an effort to pick whole grain pastas for my family.
Whole grain pasta is a great way to include more whole grains into our diet and my family doesn't really notice any difference– perhaps because they are already accustomed to whole grain varieties. Do you eat whole grain pasta? Barilla whole grain pasta is currently available in six different shapes and and they are currently hosting a Taste and Share campaign where you can get a $1 off for trying Barilla whole grain and you can share the offer with friends.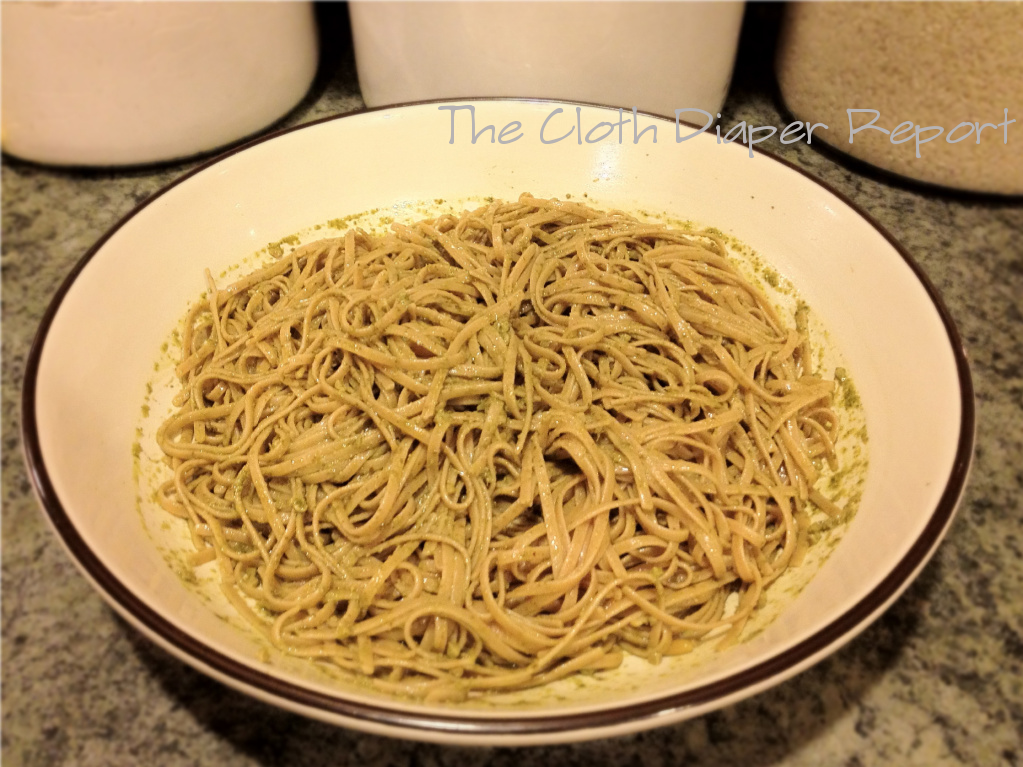 This past weekend was my first Spaghetti Sunday meal after receiving a Taste & Share Challenge Kit and I decided to make the whole grain linguine. It is a thicker noodle than I typically buy for my kids, but still long enough for them to slurp and something a little different for mom and dad. The Challenge Kit included some lovely condiments such as olive oil and pesto, so after flipping through some of my pasta and Italian cookbooks I decided to keep it simple and make a pesto pasta dish. Since the pesto was already ready-to-go from the jar it was a breeze to make! I just made some veggies to go on the side and I had dinner on the table in about 20 minutes.
Homemade pesto is pretty simple to put together as well and follows the general rule of four parts basil , one part pine nuts, salt and pecorino romano (or Parmesan) cheese to taste, then drizzle olive oil in the food processor until it forms a thick paste-like consistency. That is my loose interpretation of the many recipes I have read, seen or tried. Spinach is also a milder alternative to basil and any nut can essentially be substituted for the pine nuts which are pricey and sometimes hard to find. When using a homemade or pre-made pesto, be sure to mix in a little of the starchy pasta water to loosen up the sauce before tossing the noodles or else you'll just get globs of pesto here and there instead of covering all of the noodles.
Visit Barilla online for additional recipe ideas and information about Barilla Whole Grain pasta and the Taste and Share Challenge.
Barilla has made it an even easier for you to take the Whole Grain Taste & Share Challenge! For a limited time, visit: http://on.fb.me/TryWholeGrain, enter box code 1129 and select two of your Facebook friends to share Whole Grain with. You'll be instantly eligible to print a $1/2 coupon and your friends will each receive a $1/1 coupon good for any variety of Barilla Whole Grain pasta.
Win it!



I wrote this review while participating in a blog tour by Mom Central Consulting on behalf of Barilla and received a Taste & Share Challenge Kit to facilitate my review, kits to giveaway, and a promotional item to thank me for taking the time to participate.
{If you enjoyed reading
A Little Taste of Italy ~Plus~ Barilla Taste & Share Challenge Kit #Giveaway {3 Winners} (12/1)
I would be tickled pink if you left a comment. To read more about my green(er) parenting aspirations, advice and adventures be sure to subscribe to my
RSS feed
or get updates via
email
.}