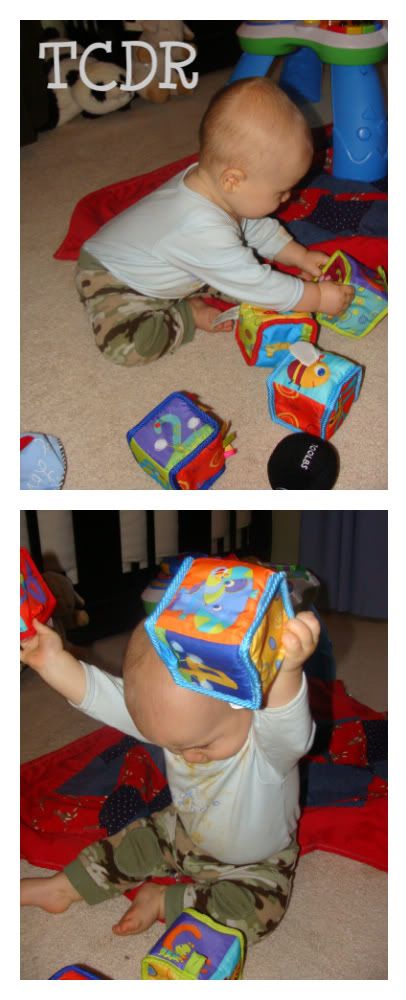 It can be hard to travel with kids and that older infant and early toddler age has been the hardest. They have either just learned to crawl or walk and get frustrated at being strapped in the car or hours on end or don't understand why they can't explore in an airport terminal. We went from rarely going farther than a couple hours away over the past two years to being frequent travelers over the past two months. We have had family reunions, work-related travels and some end-of-the-summer fun. Traveling with kids is exhausting, isn't it?
We have a DVD player in my car which my daughter is only allowed to watch when we travel long distances and it can a life-saver. So with some snacks, DVDs, toys and a nap along the way, my daughter does pretty well. My son is a different story. We try to time things (when we can) so that we leave close to a naptime in hopes that he will fall asleep for a large chunk of the drive, but it is a gamble. I feel like all I do is keep handing him rice rusks and other foods to munch on, while trying to pace it so we don't run out before we reach our destination.
I also try and pack a new or less familiar toy so that he can be entertained for periods of time. Do you bring new or newer toys for long trips? I try to bring a new or newer toy for longer trips and was able to bring some Bright Starts toys on our last couple trips. The Grab & Stack Blocks are fantastic! For whatever reason I think of wooden or plastic blocks when I think of blocks, but these soft, fabric blocks are great. My three-year-old has just as much fun with them as my 9-month-old and although they are bulky to take on trips, they are really light, so are a great choice if space is not an issue.
Our next big trip, and the biggest trip we have ever planned since we got married starts this weekend with a 12-hour drive to Houston to see my in-laws and a two week trip to Japan to see my parents (it's like a 20+ hour ordeal to get there. *sigh*). I know, I am pretty nervous about it all. I am a seasoned traveler, but traveling with kids are a totally different story. Since space in the car and especially in the plane are limited I need to be very selective about what I bring, but it has to be engaging and relatively light. The Bright Starts Grab & Stacks Blocks may come with us to Houston, but I am still contemplating whether we will take them on the plane since they are bulky– at the same time they are so light I haven't crossed them off the lists quite yet.
Water or soda bottles we get on the road fascinate him and will keep him entertained for good stretches of time, so we'll have to hold onto some that we get on the road and I plan to bring his new Ringley Sun teething toy. The rest of his bag remains unpacked. What have you brought for your infants on long plane rides? The trip will also be long for my daughter, but I have a LeapFrog Tag book and pen I will surprise her with, we will download videos and new games on our iPads and she will survive. But the baby, who hates to sit still since he started crawling a couple of months ago, will be a challenge.
The product mentioned in this article was provided by Bright Starts. No compensation was received and the opinions are my own.
{If you enjoyed reading
Traveling With an Infant and a Preschooler
I would be tickled pink if you left a comment. To read more about my green(er) parenting aspirations, advice and adventures be sure to subscribe to my
RSS feed
or get updates via
email
.}