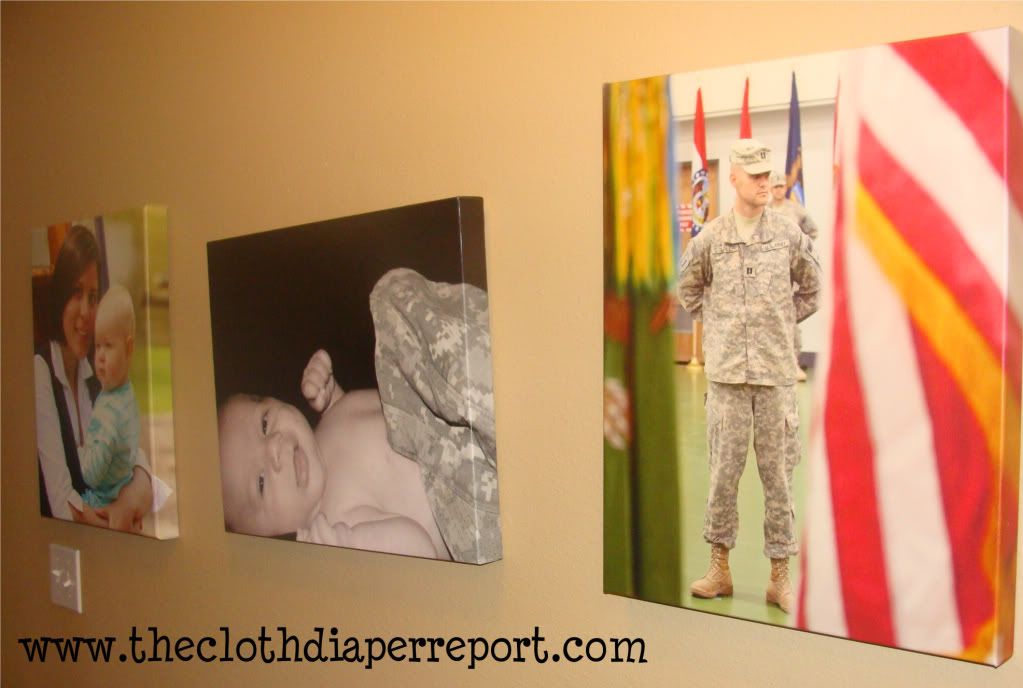 It took three years and two review items for me to finally decide on the perfect decor for my hallway. I have mentioned this very briefly in the past, but I went through a major earthquake when I was 11-years-old and my mother always tells her story about crawling through the glass of the shattered family pictures that were in our hallway to get to us kids on that tragic day. I think you would agree you would also be leery to put glass frames in your hallway after growing up with an experience like that, yet, the hall seemed so bare I was itching to do something.
I thought about vinyl letters or images at one point, but I didn't want to invest in that knowing I would have to peel it off when we got re-stationed. I was able to review one canvas print about a year and a half ago and although I liked it, it never quite found the perfect place in our home and ended up being stored with our other unused frames. After having a second opportunity to review a canvas print from another company earlier this year, the light bulb lit up and I realized these were my answer for my bare hallway walls.
Canvas prints allow you to display favorite photos or other images in a clean, fresh way, without the need of heavy frames or glass and were a great answer for my decorating dilemma. I ordered a third canvas print from a third company and have a lovely trio of canvas prints decorating our hallway. They are all the same 16X20 size and seem to be made of comparable quality and you wouldn't know that I ordered them from three different companies. So I think it's safe to say that canvas prints in a similar price range should be pretty consistent in design and quality whether you want to add to your collection through a different company or want to order prints down the line.
I think I would like to eventually update some of the photos, and I found that you can also purchase canvas rolls which you could stretch over an existing frame to "change out" your canvas photos periodically as long as you have a staple gun or to use in other creative ways. This is definitely an option I will consider from Uprinting when I have the opportunity to order something from them in the future.
Uprinting is an online printing company that offers canvas printing in both rolled and stretched varieties and I was surprised at how affordable the rolled canvas prints are compared to the stretched versions. As I mentioned before you can save money by changing out just the canvas print and re-stretching it over an existing frame or if you're handy and on a budget you can make your own frame to stretch a canvas print over.


 Win it!
Samples of the products mentioned were or may be provided for this article. No other compensation was received and the views and opinions are my own.
{If you enjoyed reading
Canvas Prints Are My Preferred Hallway Decor ~Plus~ Uprinting Canvas Roll #Giveaway (9/14)
I would be tickled pink if you left a comment. To read more about my green(er) parenting aspirations, advice and adventures be sure to subscribe to my
RSS feed
or get updates via
email
.}