After being able to review two awesome toys from The New Toy I can honestly say that James and The New Toy crew definitely know what they are doing! I can tell that the products we received to review were researched and thoroughly played with before they gave them their seal of approval.
The Masterz Kitz by Kidzaw (a new exclusive at The New Toy!) are great for older children and although my daughter was a little under the recommended starting age for the kit, she is accustomed to doing a lot of art projects here at home and caught on quickly (see picture, left). I was surprised how little help she needed outside of the preparation of the paint and stencils and she asked to paint with the kit again the next day!
And even though all her drawings and paintings are works of art, this is one I would consider framing! It has the tools to help give kids the structure they need to create a "grown-up" masterpiece, but still has room for inspiration and creativity. Didn't it turn out lovely? 


The Oball Roller Push Toy our little main got to review is versatile and the structure of the ball makes it easy for him to hold onto. He shakes it to his heart's content and the larger size actually seems to be easier for him to hang onto than the smaller Oballs we have at home. Plus our other ones don't have any rattles in them, so this one is much cooler.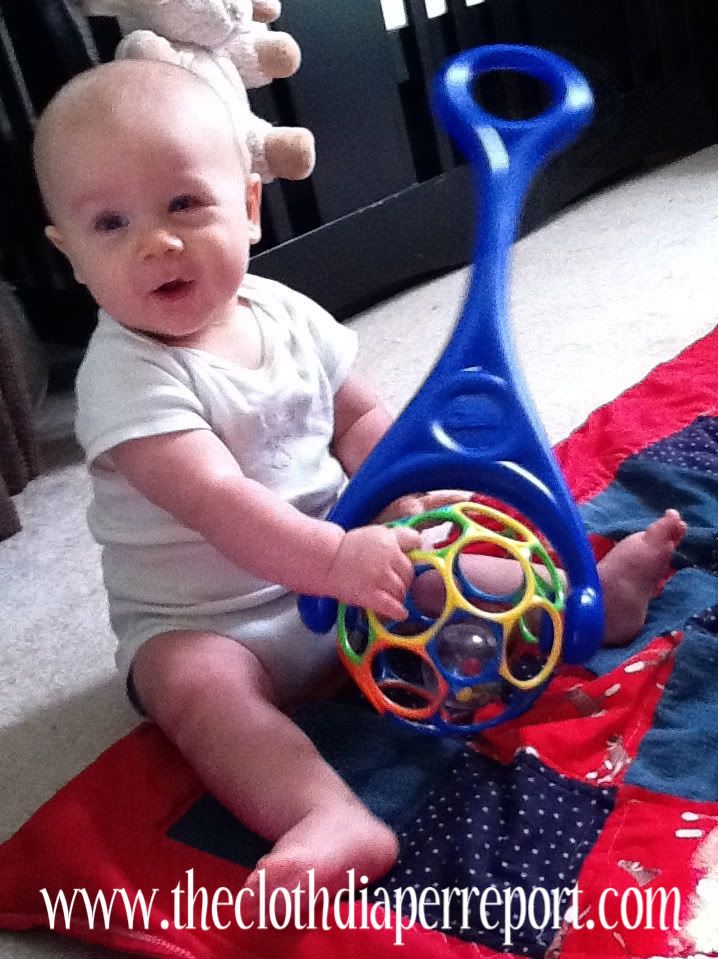 He is starting to explore it with the removable handle attached by rolling it forward and back horizontally, and he will be all about rolling this around the house once he starts toddling. Sister uses it as a vacuum and came up with the funny idea to use just the handle portion as a stethoscope while playing doctor. I love toys like these that leave room for imagination,  grow with my kids and don't annoy me after five minutes. 
These were both toys I would recommend for your kids and we are having a ball with them (pun intended).
Visit TheNewToy.com for their weekly toy sales and sign up for their newsletter (top of their main page) so you are always in the know.


Samples of the products mentioned in the review were provided for this review. No other compensation was received and the views and opinions are my own.
{If you enjoyed reading
The New Toy's Exclusive Masters Kitz & Oball Roller Review
I would be tickled pink if you left a comment. To read more about my green(er) parenting aspirations, advice and adventures be sure to subscribe to my
RSS feed
or get updates via
email
.}