My daughter loves to help in the kitchen, but sometimes it is just easier to set her down with an art project or turn on a cartoon while I am cooking so I can get things done faster. I don't know about you, but when my daughter drags a chair from the kitchen table up to the counter, needs help getting on and off it, then needs a constant spotter to make sure she doesn't fall down, it's hard to get too much cooking done. If we are doing something interactive or fun it is not a big deal, but when I have 30 minutes to get dinner on the table and she wants to "help" I am often torn whether to let her get involved.
When I first laid eyes on The Learning Tower, by Little Partners, I loved the concept of a safe way to elevate toddlers and preschoolers to the counter or table. The fun colors and accessories they have available were definitely note worthy as well. Although at first glance it may seem like a "unitasker", it is a versatile product and it can also be used in imaginative play. One fear I had was that it would be bulky in our small kitchen and we would trip all over it, but since it has arrived it floats in the middle of the kitchen sort of like an island and it hasn't been an issue for us.
We have mainly used it in the kitchen for washing hands as well as rinsing fruits and veggies at the sink, and for my daughter to help mix, knead or cut food at the counter. It has been fun to use it as a fort, "T.V." where she put on shows, and I have even caught my daughter using it as a little hideout when she needed a few quiet minutes alone. It has made preparing food, even on busier nights a little less stressful, because she can climb in and out by herself (although she tried to climb out the wrong side in the video below as the sink was blocking her way) and is safe in the tower so I can give her little tasks to work on to keep her involved and occupied while I get the rest of dinner together.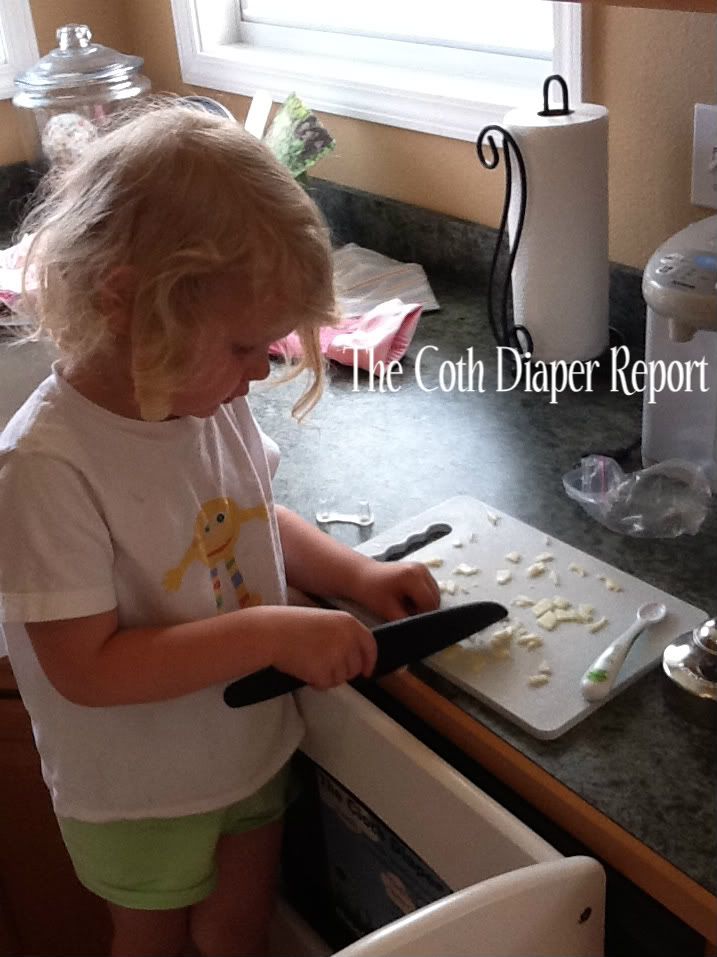 She has loved helping put salads together, knead bread and her favorite is to cut sliced cheese with a plastic knife (see picture, right). As we continue our review I would like to find other uses for the tower at the kitchen table or other parts of the house to see the other ways it can come in handy. One idea I have for my daughter to do this week when my babysitter is over to help is wash the windows! I usually have her do the bottom of the sliding doors or windows where she can reach, but she will be thrilled to be able to reach more of the glass.


Have you seen or considered a Learning Tower? We are in love so far and will keep you posted in additional articles (and a giveaway ;-)) to follow!
Website:
http://www.littlepartners.com/
Samples of the products mentioned in the review were provided for this review. No other compensation was received and the views and opinions are my own.
{If you enjoyed reading
The Learning Tower Part One: An Introduction
I would be tickled pink if you left a comment. To read more about my green(er) parenting aspirations, advice and adventures be sure to subscribe to my
RSS feed
or get updates via
email
.}