I have gone a week without drinking or cooking with any dairy milk! The only dairy milk product I have had is some homemade yogurt, so I think I am doing well pushing myself to experiment and embrace varieties of Silk I would never have thought to purchase at the store. I am a little behind on recording my endeavors as I had intended to write every other day, however, I will catch you up on where I am now and give Day 8-10 their own individual spotlight so I will still share with you five posts total for the challenge.
Below I will discuss the daily applications of Silk I am highlighting, and if you missed my article about Day 1 and 2, visit my previous post here. Most of these applications were for dinner when the whole family was together, including the smoothies and pancakes
When Daddy is never home for breakfast you have to enjoy it sometime! And who doesn't love breakfast for dinner?
The Organic Unsweetened Soy Milk is ending up to be my go-to variety for cooking applications, because it doesn't have an overpowering flavor or sweetness and is low in calories. As I mentioned in my previous article, this was the variety I though would be the least appealing and although I don't love drinking it from the glass it works really well in sweet and savory applications. This week I used the Organic Unsweetened Soy Milk on Day 3: Pasta Sides, Day 4: Strawberry, Pineapple & Spinach Smoothie and on Day 7: Oatmeal & Cinnamon Apple Sauce Pancakes.
Day 3: Pasta Sides
I am trying to be better about using my pantry items before they get buried in the back and forgotten until they have long expired, and I found some Pasta Sides to make for dinner. They are usually not an item I buy or make often, but I got them on sale a while back and forgot about them. The Organic Unsweetened Silk Soy Milk made it a little lower in calorie compared to using 2% milk, I couldn't tell a difference and didn't even mention that I switched it out to my husband. Everyone really enjoyed the dinner since it was something a little different than we usually have, it was quick and easy for me, and no one even knew I used the organic soy milk!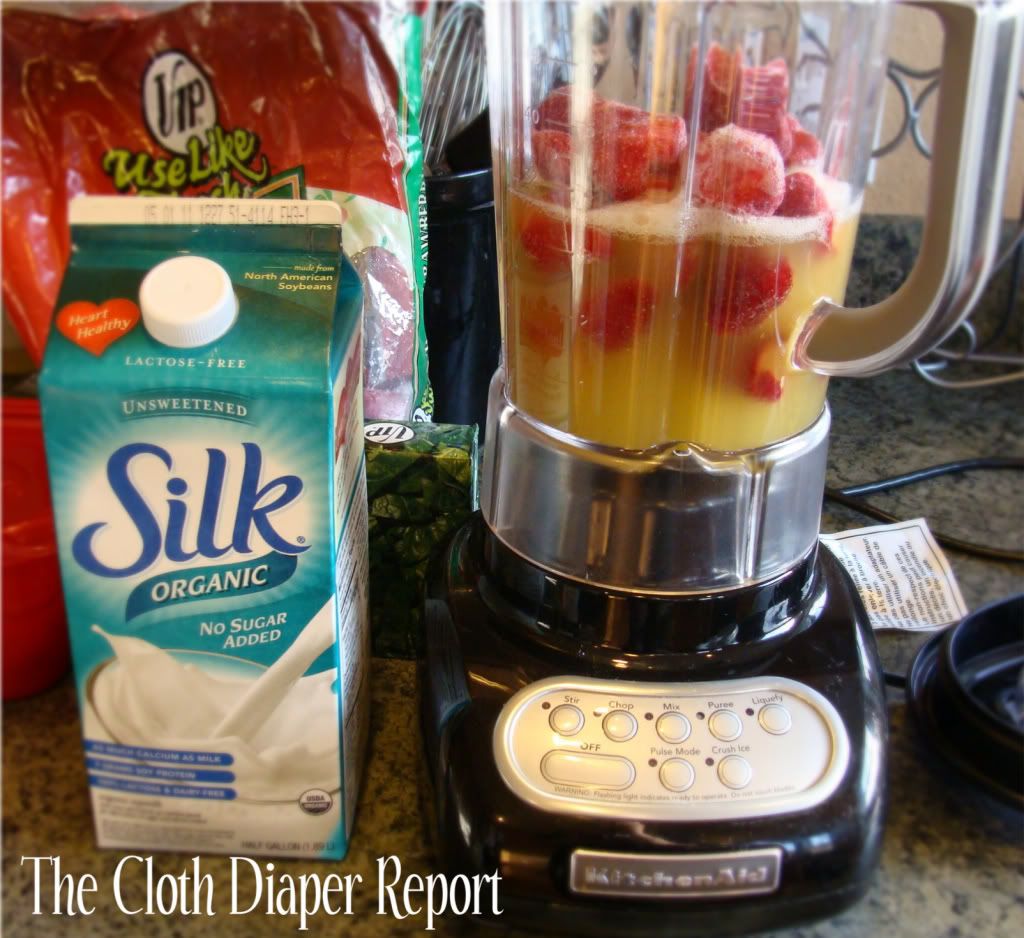 Day 4:
Strawberry, Pineapple & Spinach Smoothie
I have never put vegetables in my smoothies and after eating a big lunch and not feeling like eating or cooking much of anything one night I decided to make smoothies. As a mom, however, I felt the need to have some veggies and protein in it, so it was a bit of a science experiment, but turned out pretty well in the end. Since I had never used spinach in a smoothie and didn't know what ratios I would need so that it didn't taste like spinach so I just kept adding ingredients until it tasted good.
After playing around with different levels of pineapple juice, Silk, strawberries and spinach I ended up making two good sized batches of smoothies, and probably could have easier fed three other people. Again, the unsweetened soy milk serves as a good template as you couldn't taste the soy after all the other ingredients were included and didn't add additional calories or sugar to the drink.
Day 5: Very Very Vanilla by the Glass
Well on Day 5 I discovered I am in love with the Very Very Vanilla soy milk variety and never thought I would really enjoy any soy milk straight by the glass, but this one is a winner. It is a lot higher calorie compared to a dozen or so of the other Silk varieties that are under 100 per serving, but still only comes to about the same calories as a cup of 2% milk. I enjoyed it with my cereal and drank it along with my breakfast and throughout the week as a refreshing treat.
Day 6: Exploring Chocolate & Silk Light
As a chocolate lover I had to try something chocolate and decided to try the Light Silk Chocolate Milk to start so I could give one of their light varieties a try at the same time. Plus, at 90 calories per serving, it is a chocolate milk that is definitely kinder to the hips. My daughter and I really enjoy it and I noticed that it uses stevia as a sweetener, which scores points in my book as I prefer to avoid certain artificial sweeteners when possible. Below is a clip of my daughter's first taste of Light Chocolate Silk:
Day 7: Oatmeal & Cinnamon Apple Sauce Pancakes
After trying the Original PureAlmond milk in my regular pancakes last week we decided to try the Unsweetened Organic soy milk in some oatmeal pancakes last night for dinner. My husband offered to help and added some secret ingredients (applesauce and cinnamon) that made them taste extra moist and yummy. The last batch of pancakes had a very slight nutty taste to them when using the PureAlmond milk, however, these didn't have any hint of soy taste to them.
As I am still trying to slowly shed my pregnancy weight many of the lower calorie Silk varieties are really great to have on hand, especially to use in cooking, and I look forward o trying some other varieties of Silk my last three days of this challenge! To see the full line of Silk products, learn more information or start the 10-Day challenge on your own visit Switch to Silk online.
Win it!

One TCDR reader will win a Silk Chicobag and free product coupon from Silk.
The mandatory entry:
1. Visit the Switch to Silk website and comment on a fact you learned or which variety you think you would enjoy the most.
Additional entries
2. Publicly follow my blog and comment for one additional entry

.
3. Follo

w
@TheCDReport
and/or @LoveMySilk
on Twitter and comment for one additional entry each. You may also tweet once a day for an additional entry, but need to include @TheCDReport, @LoveMySilk, #giveaway and the URL in the tweet. Leave separate comments with the permalink each time.
4. Subscribe to TCDR emails and comment after you confirm your subscription. (Subscription form located in left sidebar).
5. Comment on a non-giveaway or current giveaway and come back here and comment which one. Limit 5 extra entries.
6. Blog about the giveaway and comment with the URL for two (2) extra entries, leaving two separate comments.
7. Add the TCDR button to your blog or website and comment with the URL where it can be found for TWO additional entries, in TWO separate comments (HTML code found in bottom left sidebar).
This giveaway is open to the U.S. and will end on April 17, 2011. The winner will be drawn via random.org and will have 48 hours to respond or another winner will the drawn.
Email addresses must be visible in your Blogger profile or left in each set of comments to be eligible for the giveaway.
Samples of the products mentioned in the review were provided for this review. No other compensation was received and the views and opinions are my own.
{If you enjoyed reading
My Switch to Silk 10-Day Challenge: Day 3 through Day 7 ~Plus~ Giveaway #2 (4/17) #SwitchtoSilk
I would be tickled pink if you left a comment. To read more about my green(er) parenting aspirations, advice and adventures be sure to subscribe to my
RSS feed
or get updates via
email
.}