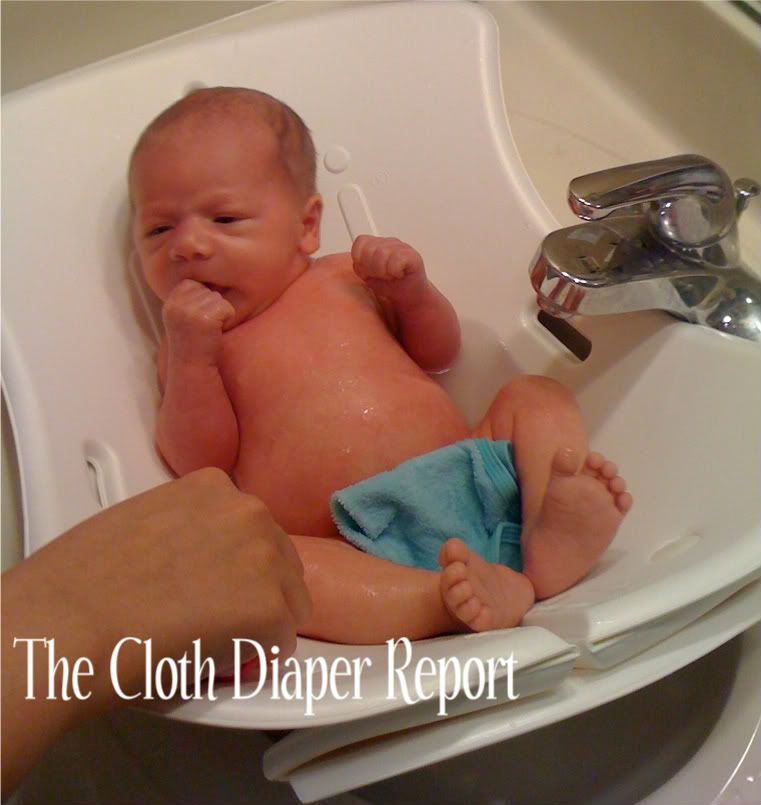 My little guy's umbilical cord fell off a couple of weeks ago and we entered the world of submerged baths! I had kept the infant tub from my daughter that had a hammock like insert for newborns, but with a bad back I would opt to put it in the kitchen sink rather than bath tub so I could bathe her standing up. Well with a toddler and newborn the sink is often full of dirty dishes and the tub takes a chunk of space to store so I was eager to test out the innovative design of the Puj infant tub.
If you recall the Puj giveaway a couple of months ago, this is a great product for newborns that utilizes the bathroom sink. I like that I can bathe my toddler in the bathroom at the same time, as long as either someone else is home to help out a little or I have everything I need laid out including a baby bouncer or somewhere to set my newborn while I am assisting my toddler. With the Puj infant tub I am able to bathe the little guy standing up and he is more cradled, which is probably a nice transition and reminiscent of the womb.
The material is soft and flexible, and will not be cold or hard against a baby's delicate skin. I am also thinking that it may be nice padding to put under an older infant or toddler's bottom in the big tub if you are looking to use it for a longer period of time (I may need to try that with my daughter this week!).
It has been easy to set up, use and I have very few complaints except I wish it would hold a little more water so baby is better submerged and I have more water to access with my washcloth. I know that too much water would be a hazard, but I can see it will get harder to get water on my wash cloth and he will be less and less submerged in the water the bigger he gets. One technique to access more water would be to put the sink stopper in and fill the sink with some water as well since the sink can still hold some water around the tub, but it will all depend on the style of bathroom sink you have.
All in all we are loving our tub so far and although it probably won't fit my chunky babies for 6 months, this tub is perfect to use until they are sturdier or can sit up with some assistance, which would make bath time in the tub easier. I plan on bathing the two kiddos together once he is sitting up, although I still may use the bulky infant tub as a transition. The Puj infant tub stores and dries flat, and has a lovely little hole perfect for hanging the tub to dry. I don't have a hook for it in the bathroom (you would just need one of those that suctions on), so I store it on our towel bar since it hangs nicely when I flip it upside down.
I would definitely recommend this to someone looking for an easy-to-use infant tub, but especially to those with delicate backs or who want a soft, cradled tub experience for their infant. I love the little clip from the Rachel Ray show, one of many shows where it has been featured, where she tries to guess what it is. Check it out:
Samples of the products mentioned in the review were provided for this review. No other compensation was received and the views and opinions are my own.
{If you enjoyed reading
Puj Infant Tub Review
I would be tickled pink if you left a comment. To read more about my green(er) parenting aspirations, advice and adventures be sure to subscribe to my
RSS feed
or get updates via
email
.}