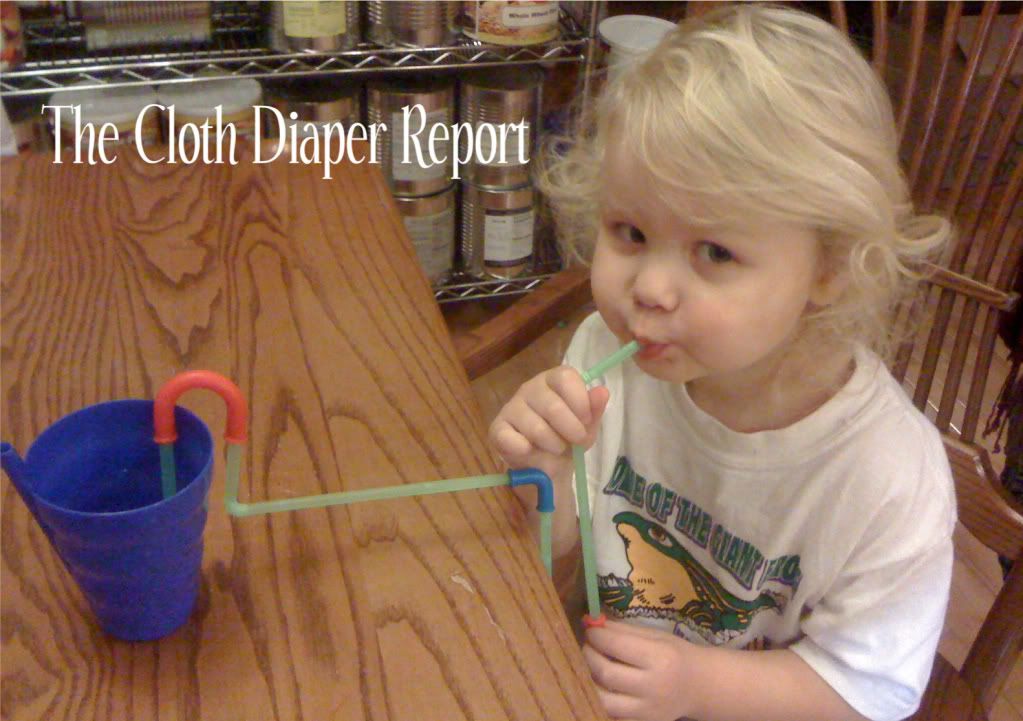 I have not met a kid that didn't love straws and my toddler is no exception. You could probably put a straw in a glass of vegetable juice and she'd gulp it down, because it had a straw (hmm, maybe I'll have to try that!). Super Sipperz are a fun gift idea for the holidays to keep your kiddos busy throughout the year or to entertain grandchildren, family or other company you may have coming through this holiday season.


Super Sipperz have flexible connectors in a few different shapes that you and your kids can combine with straw to make something as involved or simple as you would like to gulp down your beverage of choice. They connectors are dishwasher safe and come with a mesh storage bag so you can keep track of them and wash them, some glasses and flexible tubing and two bunches of straws. The connectors should work with any standard-sized straw once you run out of the ones they come with so the fun doesn't end when the disposable straws are gone as you can continue to reuse the connectors. My daughter is not old enough for a terribly elaborate design, but she was thrilled that her "wiggly" straw sucked the water right out of her cup!


Additional Information About Super Sipperz:

Love the idea of having family and friends over for the holidays and throughout the year but don't know how to keep all the kids entertained? Now there's Super Sipperz™, packs of brightly colored rubberized connectors and straws that provide hours of unexpected laughter and entertainment for kids and the entire family. Best of all, whatever masterpiece your child builds becomes a functional straw for drinking juice, punch or water! Parents, you know how much your kids love drinking straws. Imagine how much they will love building and creating with their Super Sipperz. Super Sipperz takes drinking straws to the next galaxy!
Super Sipperz delivers interactive, creative and fun opportunities for kids of all ages and their families to build rockets, castles, dinosaurs, trains, or whatever your child can imagine. Use long winter days to turn simple project ideas into colorful compositions your kids will be proud to display.
Supper Sipperz are a boredom buster:
Hold a timed contest to construct one of the design ideas on http://www.GetSuperSipperz.com

Set up your own Constrawction Zone and create an awesome wearable, drinkable hat, tiara or helmet

Snack time becomes fun time when kids assemble their own amazing creations to enjoy their favorite liquid
Super Sipperz connects easily and quickly, which means kids can immediately tap into their seemingly limitless imaginations to build hundreds of designs. Each order comes with one pair of wacky straw glasses, nearly 57 colorful straws in two different sizes, and tons of brightly colorful rubberized connectors along with one convenient wash and carry mesh bag.
Super Sipperz are affordable, dishwasher safe and reusable, keeping tight shopping budgets in line this holiday season.
For the holidays, birthdays or any time, Super Sipperz celebrates the curiosity, creativity and originality of every child, while teaching basic skills such as concentration and teamwork. They make excellent birthday gifts and stocking stuffers, and multiple sets can make the most of play dates with friends. The more Super Sipperz you have, the more creative your child can become.
Super Sipperz are available online for $9.95 plus shipping and handling. For more information and to order, please visit http://www.GetSuperSipperz.com
Samples of the products mentioned in the review were provided for this review. No other compensation was received and the views and opinions are my own.
{If you enjoyed reading
Holiday Gift Idea: Keep the Kiddos Entertained During the Holidays & Beyond with Super Sipperz
I would be tickled pink if you left a comment. To read more about my green(er) parenting aspirations, advice and adventures be sure to subscribe to my
RSS feed
or get updates via
email
.}