Although I was drawn to babywearing when I was shopping for baby as a pregnant mama, I jumped in head first after a few weeks, because I had a very clingy, snuggly baby. The "baby super store" carrier I had purchased worked, but didn't offer quite the support I wanted as my daughter grew, I learned that it didn't position my daughter's spine the way it should have and my daughter refused to be in it at home when I really needed my hands free to get a thing or two done. I quickly became the owner of multiple styles of carriers and wraps to accommodate to different purposes, weights and preferences and I came to like different styles, brands and fabrics for different tasks.
I was excited to have the opportunity to review the ERGOBaby carrier, which has organic and non-organic options, will work for a wide range of ages and activities and has sturdy straps for optimal back support for mom. I am all about owning multiple carriers, but if you want to make one investment I would recommend a carrier like the ERGOBaby that will work for a large age range, support your back, has front, back and hip carry options and will be sturdy enough for the chunkiest of babies while working just as well with tinier tots.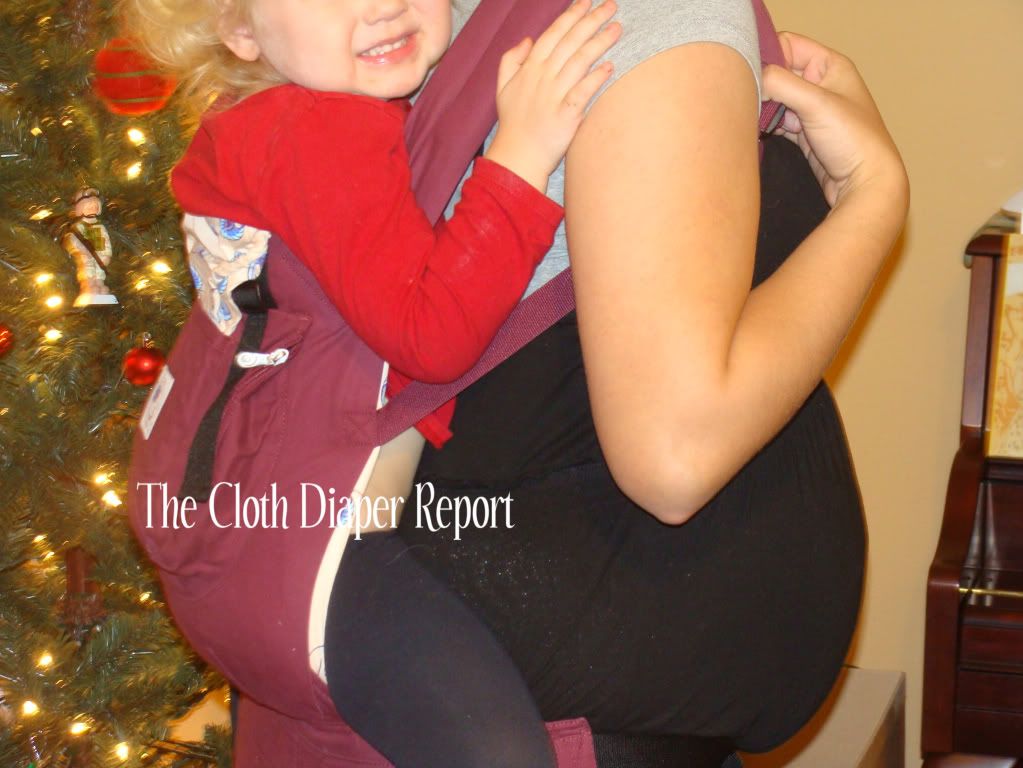 Since I have a bad back my comfort and support is equally as important as baby's comfort and support so I take this pretty seriously when it comes to baby carriers. The Ergo carrier has thick backpack straps in addition to a sturdy waist strap and chest buckle that ensure the weight of your baby is distributed properly. It is quick and easy to put on, and there are no long straps or yards of fabric to wrestle with or drop on the ground. There is no fabric or straps between you and your little one so you can hold them close and the heart2heart insert is perfect for newborns and smaller babies so that they are positioned safely and securely during the early months (review coming in the new year :-))

Waist extensions may also be purchased if you need wider sizing (so you don't have yards of extra straps if you don't need the extra room) and backpacks, pouches, sucking pads and other accessories are also available so you can customize it to your preferences and needs. With all of these options as well as the newer performance and sport models I think that the ERGOBaby is definitely one of the most versatile and customizable carriers on the market that also offer proper alignment for your child and comfort for the caregiver. Plus they have cute colors and patterns and look "outdoors" enough that even my G.I. Joe will entertain putting it on, unlike the wraps, slings and other carriers I own.
I don't think that I could wear my toddler for long periods of time in the carrier (she is 36+ pounds and very tall for her age so it is more like carrying a preschooler around), but my husband could if we wanted to go out on a walk or if she got tired at the mall or event. I was also pregnant during this review, so I was really carrying more than just her weight, however, it was still comfortable, could be adjusted to fit my height, body type and daughter and was sturdy. I think that an infant or smaller toddler could easily be carried for extended periods of time and I am excited to review the Heart2Heart insert with my newborn when he arrives and get a true feeling for how the carrier grows with my child and during our babywearing years together.
Samples of the products mentioned in the review were provided for this review. No other compensation was received and the views and opinions are my own.
{If you enjoyed reading
ERGOBaby Organic Carrier Review
I would be tickled pink if you left a comment. To read more about my green(er) parenting aspirations, advice and adventures be sure to subscribe to my
RSS feed
or get updates via
email
.}