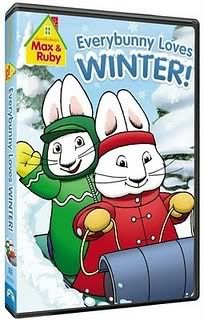 Fall is in the air and winter is just around the corner! Although I am not crazy about some aspects of the winter weather, I absolutely love the fall and winter holidays. This season has some added anxiousness and anticipation as we await the arrival of our little boy and watching this new release made me wonder what dynamic my daughter will have with her little brother.


Max & Ruby: Everybunny Loves Winter is filled with fall and winter adventures for the brother and sister duo and will entertain the whole family. I have to admit I usually play the cartoons I like the best for my daughter and Max & Ruby is a family favorite. The episodes are nice and short so we can watch one or a group of them depending how much time we have or how much time I feel we should watch.


I am excited now that my daughter is two, to do more holiday activities that were a little over her head last year. We are starting to talk about some of the holiday activities from these episode and look forward to baking and decorating snowflake cookies, making a snowman and definitely a gingerbread house just like Max & Ruby!
JOIN MAX & RUBY ON THEIR WINTER ADVENTURES
Available on DVD on September 21, 2010
NEW YORK – August 24, 2010 – Come along with Max and Ruby on the new DVD adventure
Max & Ruby: Everybunny Loves Winter!
, which features four all-new episodes never before released on DVD. In these winter-themed episodes, Max and Ruby play and have fun in the snow, make gingerbread houses, and even play duck, duck, goose! Created by Nickelodeon Home Entertainment and distributed by Paramount Home Entertainment,
Max & Ruby: Everybunny Loves Winter!
will be released on September 21, 2010 and sold for the suggested retail price of $16.99. This is a great addition to the
Max & Ruby
collection and will certainly get kids in the holiday spirit.

Nickelodeon's
Max & Ruby
is a half-hour animated comedy series based on the children's books by Rosemary Wells. Each episode centers on Max, a determined three-year-old bunny, and his big sister, Ruby, a smart, goal-oriented seven-year-old. The show offers an empowering message for children by showing Max and Ruby playing together and resolving their differences in ways that are respectful and supportive.
Max & Ruby: Everybunny Loves Winter!
Episode Synopses:
Max wants to zoom down the hill on his "Sled!" but Ruby is intent on making a huge snowbunny and she needs Max's help. When it turns out they've built the snowbunny at the bottom of Rocket Run, the only way to get the snowbunny safely out of the way is by using Max's "Sled!"

Ruby's Snowflake

Grandma and Ruby have made three snowflake-shaped cookies and now Ruby wants to surprise her by decorating them all exactly the same. Max wants to sample his "Snowflake!" right away. When Max tries to get a cookie, he causes Ruby to spill sprinkles and icing so all of the cookies are decorated differently. Ruby's upset, but when Grandma comes, she points out that her cookies are perfect – they're all different, just like each and every "Snowflake!"

Duck Duck Goose

Max wants to play "Duck Duck Goose!" with the girls, but they have to find 5 winter birds for their Bunny Scout badge. When the girls have only found 3 birds, they discover that Max has lured the last 2 kinds of birds – "Duck Duck Goose."
Ruby's Gingerbread House
Ruby and Louise want to make a perfect gingerbread house for Grandma for Christmas. Max is intrigued of course by all of the "Candy!" It's going fine except that the girls can't get the walls to stick, and finally the thing that'll make them stick is the addition of Max's favorite "Candy!"

Max's Christmas Pass
Christmas is over and it's time to take the decorations down. Ruby is sad but realistic. Max doesn't want the feeling to end, so he confiscates the Christmas ornaments and creates a makeshift Christmas tree so it can still be "Christmas!"
Max's New Year
It's New Year's Eve and Grandma has invited Max & Ruby to stay with her and watch the new year come in. Ruby is so concerned with staying awake that she contrives all kinds of games for them to play, and in the end both she and Grandma are fast asleep by the time the clock strikes midnight, leaving Max alone to wake them up with "Happy New Year!"


Ruby's Horn of Plenty
Mr. & Mrs. Huffington ask Ruby to keep Baby Huffington happy while they set up their picnic in the park. Max wants to be "Super Bunny!" Ruby thinks Baby H might want to nap so she tells Max he'll have to take off his cape and play something else. But when Baby H gets fussy, the thing he really wants is that cape and "Super Bunny!"

Max's Big Kick
The girls are trying to perfect their synchronized swimming routine. Max wants to play with all of his toys that "Float!" Of course his toys always get in their way, but Max ends up providing the girls with the big finish they were looking for, with the help of his "Float!"

Max Says Goodbye
Ruby tells Max they're going to spend the whole entire day playing at Louise's house, but Max can only take a few toys. So he decides to say "Goodbye" to all of the toys he won't see for the whole day. When Ruby finally gets Max out of the door, they run into Grandma, who wants to play pirates with them. Ruby explains that they're going to Louise's, but when she tries to lead Max away, he takes Grandma's hand and has one word for Ruby: "Goodbye!"


Max's Balloon Buddies
Ruby can't wait to see all of the gorgeous flowers at the Flower Festival, but first Max sees Mr. Huffington making balloon animals, and he wants a "Balloon!" A series of accidents causes Max's balloons to burst, so they have to keep returning to Mr. Huffington. By the time they finally get to the flowers, the festival is closing, so Ruby thinks she won't see any gorgeous flowers, until Max gets Mr. H to make a beautiful flower out of a "Balloon!"

Ruby's Penny Carnival
Ruby, Louise and Valerie are setting up a penny carnival in the backyard to earn money for a Bunny Scout field trip. Max keeps getting in the way with his monster mask, toys, bats and spiders and other things that are "Scary!" Ruby asks Max to get his icky toys out of the way, but when the carnival gets going, the biggest line-up is for the monster house that Max created, because everybunny loves things that are "Scary!"

Ruby's Big Win
Max and Ruby are at the Fun Fair, and Ruby wants to win the basketball toss, because the prize is a goldfish. Max tries other games and he always manages to "Win!" different prizes. When Ruby finally wins the goldfish, Max has won everything she needs to give it a nice home.
Max & Ruby: Everybunny Loves Winter!
Fast Facts:
Street Date: September 21, 2010
Catalogue: 895964
DVD SRP: $16.99
DVD Running Time: Approximately 99 minutes
Rating: Not Rated

About Nickelodeon:

Nickelodeon, now in its 31st year, is the number-one entertainment brand for kids. It has built a diverse, global business by putting kids first in everything it does. The company includes television programming and production in the United States and around the world, plus consumer products, online, recreation, books and feature films. Nickelodeon's U.S. television network is seen in more than 100 million households and has been the number-one-rated basic cable network for 16 consecutive years. For more information or artwork, visit
http://www.nickpress.com
. Nickelodeon and all related titles, characters and logos are trademarks of Viacom Inc. (NYSE: VIA, VIA.B).

About Paramount Home Entertainment:

Paramount Home Entertainment (PHE) is part of Paramount Pictures Corporation (PPC), a global producer and distributor of filmed entertainment. PPC is a unit of Viacom (NYSE: VIA, VIA.B), a leading content company with prominent and respected film, television and digital entertainment brands. PHE is responsible for the sales, marketing and distribution of home entertainment products on behalf of various parties including: Paramount Pictures, Paramount Vantage, Paramount Classics, Paramount Famous Productions, Nickelodeon, MTV, Comedy Central, CBS and PBS and for providing home entertainment fulfillment services for DreamWorks Animation Home Entertainment.
Samples of the products mentioned in the review were provided for this review. No other compensation was received and the views and opinions are my own.
{If you enjoyed reading
Max & Ruby: Everybunny Loves Winter DVD in Stores Now
I would be tickled pink if you left a comment. To read more about my green(er) parenting aspirations, advice and adventures be sure to subscribe to my
RSS feed
or get updates via
email
.}