Effective, all natural, environmentally friendly and affordable, Crunchy Clean gets two thumbs up in my book. Although their Diaper Detergent can technically be used for all of your laundry, Crunchy Clean is also available in an Everyday formula with more stain fighting ingredients and the lingering scent we often miss with cloth diaper safe detergents. I typically recommend having one detergent for all your laundry if you think you will be overwhelmed by having a different detergent for your cloth diapers, but there are definitely advantages to having different formulas to tackle different tasks. 
I was able to review both formulas and was excited that the
Everyday Detergent
was safe for my husband's military uniforms as they consist of a good portion of our laundry throughout the week. It cleaned well, the Grapefruit Mango scent smelled lovely, and has dozens of custom scents to choose from (can't find that in the grocery store isle!). It is available in a few different sizes, but if you buy the Large value size (160/320 HE loads) it is only 5.5 cents per HE load!!!!! Of course you have to consider shipping, but even then you come to about 7 cents per load, which is a pretty darn good deal. Double this for top loaders and you are still under 15 cents per load.
Crunchy Clean is so affordable, you may question its performance, but it was started out of a necessity to be frugal while the inventors were in grad school, and they are passing on the love by keeping prices competitively low. They have also updated their shipping options, so if you're willing to wait a few extra days you can get even more affordable shipping options. This is a product made-to-order with love and they even make their own vegan olive oil soap to ensure it fits vegan standards for many of their customers. I would say it performed equally, if not better than other natural or diaper approved detergents I have used, use it on a regular basis and have purchased more since I began the review.
·
Planet friendly
·
VEGAN
 (ALL NEW, FALL '09!)
·
100% phosphate free
·
Free of enzymes, and optical brighteners
·
Approved for military use!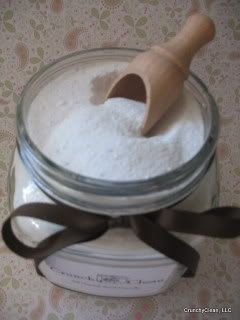 The
Diaper Detergent
is also military approved and as I mentioned before can be used for all of your laundry if you so choose. It is a "
special blend of naturally occurring minerals, detergents, oxygen releasing agents that have proven to clean diapers in a safe way that does not harm your precious baby or your diapers. It does work to kill bacteria, and works great in any temperature wash and any type of machine. You can use it to soak your diapers to kill germs or get rid of stains as well as wash your diapers regularly." So you can essentially save more energy by washing in cooler water if you choose, since the disinfecting ingredients do not require warm water, although I used it with my regular wash routine using hot water.
Although it seemed to rinse clean I smelled a little bit of the fragrance after the load was done, but once they were dry I did not smell anything. I have concluded that some of the scent lingered for a little bit in the machine immediately after the load was done (possibly the remaining water draining out of the washer), because after over a month of use did not cause any build up. If ever in doubt (particularly with a front loader), run an extra rinse or better yet, add additional water during the wash cycle (if available on your machine).
No optical brighteners, fillers, dyes, or enzymes.

 

Great for military use!

 

Clean rinsing – an extra rinse isn't necessary!

No soap to build up in your diapers.

HE compatible.

Great for all of your family's clothing and diapers.
Both the Everyday Detergent and Diaper Detergent are now available in a hard water formula at an additional cost, which I reviewed with my mild to moderately hard water, but this formula can be used in softer water as well. Check out her
FAQ page
for great detailed information on how to "diagnose" your water and other laundry and diaper answers! I love the map that gives you a general idea of what kind of water is most prominent in which parts of the U.S.
Lastly, I was able to review the
Sprinkles Deodorizing Powder
in the seasonal Christmas Wassail scent (although I later bought the Monkey Farts scent which is scrumptious). This was the first time I ever used pail powder, and although it's definitely not a diapering necessity, it is a welcome frill. What is awesome is that pail powder is versatile and can be used for a number of different things. I used it as a scrubbing powder in the bottom of my wipes warmer and to freshen up the trash. These come in a twist top plastic container, but refills may be purchased at a .20 cent discount and the sealable paper bag is a more environmentally friendly choice.  
Stay tuned for an updated detergent comparison chart, which will also include price per load comparisons, and you will see that Crunchy Clean is an extremely affordable option without compromising performance.
We started making our own laundry soaps when we were first married out of my natural curiosity for these things, as well as the necessity to be frugal because I was in grad school.  Once I had my toddler, my husband suggested selling them and the rest is history: we made a sale within 5 minutes on our 
etsy.com
 site and before I knew it, I was busier then I ever imagined!  I am so blessed to be able to stay at home with my toddler and also be able to provide green, safe products to families just like us.  I absolutely love the interaction I get with like-minded moms!  
We recently introduced a pure oxygen cleaner called
Pure Oxygen
– it contains no additives, and its great for cloth diapers and clothes alike.  We're also in the process of developing and testing some more cleaning products to expand our offerings.
Save 10%
with the coupon code "
CDReport
" good through
February 28, 2010
.
Samples of the Everyday Detergent, Diaper Detergent and Pail Powder were provided by Crunchy Clean for this review.
{If you enjoyed reading
Crunchy Clean Diaper Detergent, Everyday Detergent & Sprinkles Deodorizing Powder Review Plus 10% off Coupon Code
I would be tickled pink if you left a comment. To read more about my green(er) parenting aspirations, advice and adventures be sure to subscribe to my
RSS feed
or get updates via
email
.}