I don't always have the pleasure of being able to say that I have personally met the moms who's products or businesses I have the opportunity to review. Hopefully that won't always be the case as I'd love to meet and visit with so many of you. I have been fortunate to have been able to meet Rebecca, visit her shop and even teach a cloth diaper workshop for her (psst, she has another CD and babywearing workshop coming September 12th in St. James, MO)! One of my cloth diapering girl friends saw an advertisement for her shop's grand opening last fall, so she, another mama and I loaded our little ones in the car and drove 40 minutes to her shop. It has been such a treat to have an actual shop to visit and to be able to see, feel and try on baby products before purchasing them. I wish I had this luxury when I was initially starting my cloth diaper and baby carrier stashes. I had to do research and order online, fingers crossed. 


She has an
online shop
as well where you can order almost anything she carries in the store. Most of her inventory includes
cloth diapers
and
baby carriers
, but she also has
Babylegs
,
shoes
,
bath and body products
, and keeps loading up with fun new products or WAHM creations. She is warm, personable and honest. She won't try and rope you into a pricier product, but rather really strives to find the product that best suit's you and your little one's needs. She carries many of my favorite CD and babywearing products and she also carries
Charlie soap
,
Kleen Kanteens
and other accessories. She loves to support WAHMs in her community and carries quilts to ring slings to hair bows, made with love. Stop by if you're in the MO area, or visit her website
here
.
I grew up in a natural mothering environment but really became hooked on this stuff when my sister bought me a Moby Wrap when I had my first son. He lived in that thing for the first 5 mo or so! It saved my sanity in so many ways. We even traveled across Europe with him in it at about 5mo old (I borrowed my sister's Ergo as well for this trip… still my two favorite carriers to this day). I talked so much about my carriers and recommended them to so many people that I thought I'd offer an alternative to online ordering.
Thus
Sprouting Up
was born. We are a small physical store located near our home. I have my two kids with me every day and LOVE being able to do that! We are dedicated to providing hands on help to moms trying to decide what will work best for them. NOTHING compares to being able to see and touch these products! I was lucky to have two older sisters and a great mom to walk me through the tricks of the trade in babywearing and cloth diapering and I want to spread that love and knowledge to other moms out there. I LOVE to chat with moms about natural parenting and YES I was this enthusiastic about diapers and carriers before I started selling them! I promise to try to be honest and fair in my opinions. I don't sell anything I don't love and I have tried out all of our products personally. We would love to have you stop by and visit us or feel free to give me a call if you aren't close enough to stop by the store.
Bumwear diapers were one of the main brands Rebecca used on her DS when I met her last fall and I finally had the opportunity with her generosity to review them! Rebecca explained to be a little bit about Bumwear diapers and the mama behind them to me: 
"
About working with Bumwear. She's a WAHM with five kids – she has been selling the Bumwear cloth diapers since the end of 2002. Besides cloth diapers, she also specialise in hand printed batik clothes (
http://www.bumwear.com/
shopping.html
 ) Their clothes are produced in a mom-friendly home workshop belonging to 
a friend on the beautiful island of Bali. For the diapers the diaper fabric is sourced from the 
States. Then it is batik printed and sewn in Singapore by a team of WAHM sewers. There are pictures here of the batik process 
http://www.bumwear.com/batik1.
html
" 

The first thing I noticed about the diapers was the thicker fleece used for the inner lining and the "ruffled" leg gussets. These diapers have two hip snaps to tighten the fit around baby's thighs which can then be more finely adjusted with the waist snaps. I did not use the hip snaps with my daughter as she is about 30 lbs. and did not need them. I also noticed that the leg elastic was only sewn down on the fleece layer and not through the PUL and my first concern was taht this may cause leaking, but it actually kept things contained nicely. My favorite part of the diaper is the fabric! They laminate gorgeous batik prints of turtles, dinos and dragonflies and this sets it apart from most of the PUL prints in the CD market today.
Overall Rating:
 7.5
Overall Fit:
7.5
Size/Weight Range:
11 lbs. – 2+ years old
Closure Style:
Snap closures, two on each side and can overlap for smaller infants. 
Ease of Use:
7.5
Absorption/Inserts:
3 layer microfiber inserts, but one layer is serged, but open as a pocket to stuff an extra doubler in or to help reduce trying time. 
Materials used:
Batik PUL, fleece.
Durability:
8
The fleece is thick and durable and the laminated batik fabrics are gorgeous and high quality. The sewn down elastic may stretch out over the years, but could be easily replaced/resewn.
Pocket Opening:
In the back, elastic on both layers of the pocket.
Rise: 
Moderate
Waist:
Adjustable and overlap for younger infants. 
Thighs:
Uses hip snaps with two snap settings (three sizes total). These work well on the largest setting for my DD now, but I can see how they may not suit some chunky babies. A little baggy in the back thigh/butt area, although this does not affect it's performance.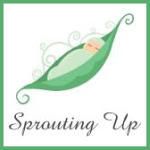 Website:
http://www.bumwear.com/
Compare to: 
Rocky Mountain One Size
A Bumwear OS diaper was provided by Sprouting Up for this review.
{If you enjoyed reading
Sprouting Up & Bumwear OS Diaper Review
I would be tickled pink if you left a comment. To read more about my green(er) parenting aspirations, advice and adventures be sure to subscribe to my
RSS feed
or get updates via
email
.}